You are here
Our Presentation
Our foundation takes great pride in ensuring the 'Bullying No way!' message is not only heard by todays youth, but also seen. We have put together a presentation that not only helps children understand why bullying is a problem but highlights ways in which each person can help. Jaylen has been bullied, and speaks from experience.
For years, our children needed someone like Jaylen
For many years our children have not known how to deal with bullying or the effects it has on lives. For many years our children were not armed with the knowledge they needed to help each other. For years, our children needed someone like Jaylen. Well, Jaylen and his campaign are here, and here to stay.
Below is a short video that shows how Jaylens Challenge Foundation is making a difference in schools. It is followed by some of the aids given to children as a take away at the end of the presentation to remind them that we all stand together.
Use of Visual Media
There is nothing to get a message across better than video. It helps to capture the attention of the audience. This has been proven to be an effective learning medium and one we have seen to work well. People just remember things better when they can see scenarios put into perspective. Jaylens Challenge Foundation, Inc. has embraced this medium and utilizes several video shorts to highlight different scenarios in which children might find themselves. 
Anti-bullying Book
Bullying - Why Would You Want To Do That? The first workbook in the Why Would You Want To Do That? series designed to facilitate discussions, primarily with second thru sixth graders. By presenting a situation with contemporary, edgy illustrations in vibrant colors, the children may recognize themselves or their friends and feel comfortable to relate their own personal experiences. By making this a personal workbook in a convenient twenty-four page 8 X 8 format , we hope to also enhance the communication between children and their parents or guardians. This book forms part of our educational package which is presented to each child who attends one of the Jaylens Challenge Foundation, Inc. curriculum presentations. This book has received the National Parenting Seal of Approval.
Wristband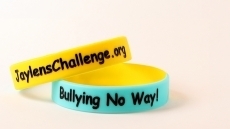 Wristbands have come to symbolize more than a statement of fashion. Jaylen Arnold designed his wristband to carry the important message of 'Bullying No Way!'. These bright yellow and blue glow-in-the-dark wristbands are worn by everyone who supports the Jaylens Challenge Foundation, Inc. message and include such stars as Dash Mihok (Ray Donovan, The Day After Tomorrow), TJ Ramsom Jr  (The Amazing World of Gumball) Leonardo Di Caprio (Titanic, Romeo+Juliet, Inception) and Donnie Wahlberg (Blue Bloods, Band of Brothers, New Kids On The Block). Each and every student that attends a Jaylens Challenge Bullying No Way! assembliy is given a wristband to show their support. We also offer wristbands to the public in return for a small donation.
Posters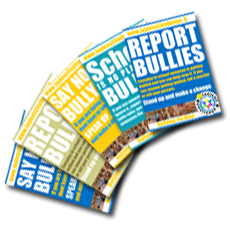 Our presentations are designed to inform, educate and inspire. Each school or civic club that participates comes away with an exclusive Jaylens Challenge Foundation, Inc. poster. These high quality posters are designed to be stuck on your school noticeboard, community hall, or wherever you think will be useful to help promote anti-bullying. Each poster carries an important message and comes in a variety of colors. They are also available for download in PDF format from the link in the main menu on the right.
Certificate of Acheivement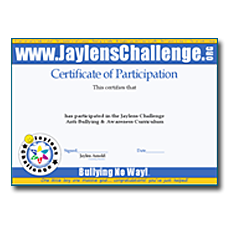 Certificates of Achievement are offered to children who attend one of the Jaylens Challenge Foundation, Inc. presentations. The presentation is part of a curriculum designed to provide teachers and children with the information necessary to recognize and help eliminate bullying from establishments where it may have become a concern. Certificates of Achievement are rewards for participation presented to each child in attendance and signed by Jaylen himself.